Colorado TV broadcasting LIVE 24-7 and on ROKU Coloradowebcam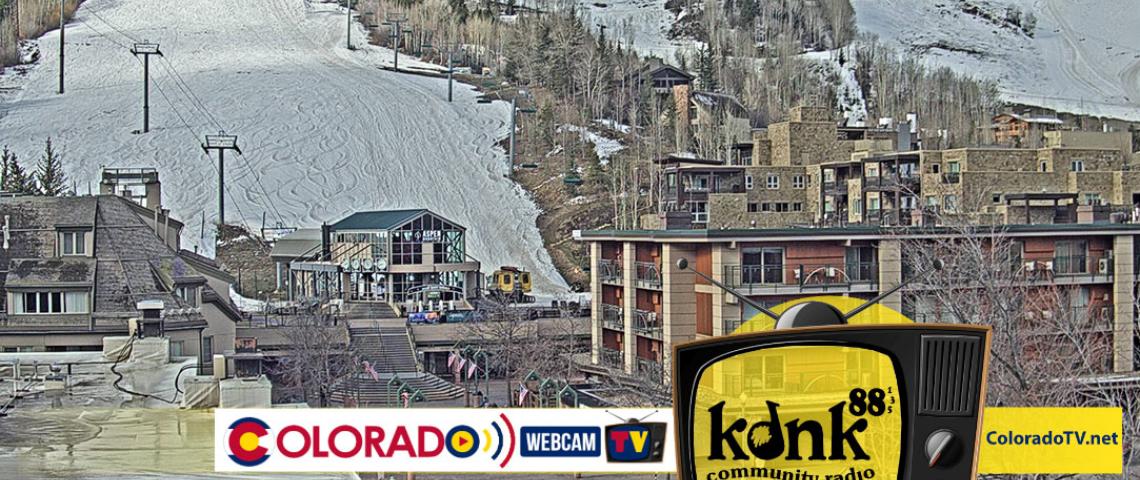 What's New for 2022, COLORADOTV is new and its great.
I started a 24-7-365 TV channel and am publishing it on our website camera #1, on ROKU Channel "Coloradowebcam", and direct WEB version www.coloradotv.net.
NOW WITH KDNK AUDIO.
This is been a vision of mine for the past few years, the webcam obsession continues to evolve. When you have 120 webcam views produced, what do you do next? You create an auto switching TV channel of those views. This is the idea behind the COLORADOTV product and I personally think it is a winner. The first channel is a tour of Colorado as the bird flies. The tour starts in the Front Range Boulder, Denver, I70 Idaho Springs, Georgetown, Granby, Grand Lake, North to WY, and then South Spanish Peaks. Then the mountain regions Crestone, Buena Vista, Salida, Beaver Creek, Glenwood Springs, Roaring Fork, Aspen, Snowmass, Rifle. Then North West corner to Dinosaur, and South West Ridgeway and Ouray. These are 99% our webcam productions and now that the systems are created we will reach to other webcam productions to offer their cams be added the live channel. So over time I expect the tour to grow. Over time I expect to add more channels, one for Upper Michigan, maybe one just for SKI-MOUNTAINS shots. It cost to produce each channel and systems must be monitored.
Viewed from a big TV and controlled through your TV remote is the best experience. No better weather sample then seeing with your own eyes what the conditions are. Since Colorado has very regional weather this is the best live weather tool without question. Right now it is a complete organic experience and we are not monetizing it with ads yet, it will need to be monetized at some point. This is becoming a very expensive project to produce. But I think worth the expense.
The switching TV channel currently has all the AUDIO shut off. Some webcams do have audio, but most do not carry an audio track. This brought the thought of what could be done with the AUDIO track, and I reached out to some Colorado Radio Stations to see if there were any innovative thinkers there. Let's just say you all are lucky I am making this happen as most people do not see the same thing I see very clearly. Yet we are talking with KDNK and they are mulling over the idea of running the Live Radio Track over the Live Video I have created. There is also the thought of broadcasting my own Radio Station or music track, but I would rather find the right fit. I will give the AUDIO track some time to develop and in the future we may have audio to tune is as well. But the Video without any audio is a great experience and makes a great visual for the room without any noise disruption. I stopped the noisy TV shows and put this up and play some great music to set the environment.
Viewing the Channel is LIVE so at night its dark for many cams and you will get a different experience throughout the day and night. I do have day programming and night no moon programming and night with moon programming to try to deliver good cams and not blacked out dark nighttime shots for cams that do not perform at night due to no light. Also the cams are computer dependent on the internet working and your site where you are viewing needs good internet too to make a stream work. At any time any single cam may go down. We experience about 10% failure at any time which is about 12 webcams that need service at any time. We try to repair over the phone first, and then have to make a site visit to repair. Burned out Power Packs, Burned out Webcams, Cable Failures, Internet Issues, Router programming issues, Nature and Wildlife issues, Bad Weather, tampering of the equipment are all probable in causing failures.
As of 12/27/2021 we have been live for about two weeks. I think this is our future and I expect many to follow my example down the road. When others copy your work that means you're doing it right. Merry Christmas & Happy New Year 2022 here we come.